Powerful
Harness the power of your medical technology
SECURTM is an easy to use practice management application designed for healthcare providers and billing services. SECUR integrates information and manages insurance billing, account collections, managed care, practice marketing, and accounts receivable.
Developed for use on Windows based PCs, SECUR combines the familiar Windows user interface with the latest in software technology.
Designed with open architecture for seamless integration with other business applications.
Electronic Medical Records (EMR) capable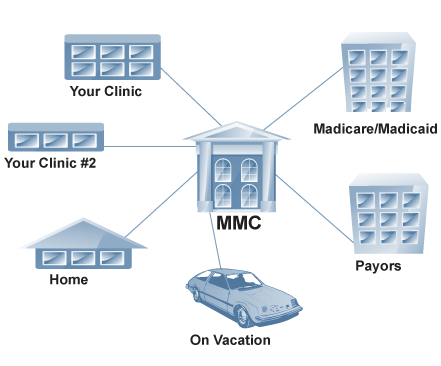 SECUR can be delivered to your practice two ways:
1. ASP MODEL
Application hosted on our server delivered to your office
Redundant Backups (data, power, connections)
Disaster Recovery Plan in Place
Reduce Costs - Eliminate Required HW Upgrades
ROI-Focused
Access Files Anytime - Anywhere
Fully HIPAA Compliant
Automatic Updates and Upgrades
2. Locally on 'your server'
Application resides on your server
Bi-Monthly Updates
Quick Installation and Implementation
Ongoing Support, Training and Updates
ICD-9s, CPTs and Zip Codes Automatically Updated on System for Easy Reference
What are you waiting for?
Areas Covered
We provide a range of Healthcare IT Consulting, EHR/EMR and Medical Practice Management in St. Louis, St. Louis County and Missouri.
Local experts who can visit on-site: St. Louis Healthcare IT Consulting, St. Louis County EHR/EMR, Missouri gloStream EMR, St. Louis Medical Practice Management, St. Louis County Healthcare IT Consulting, Missouri EHR/EMR, St. Louis Managed Services, St. Louis County Backup and Data Recovery, and Missouri IT Consulting.